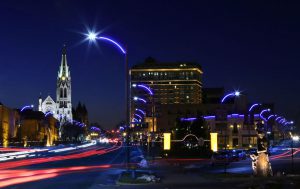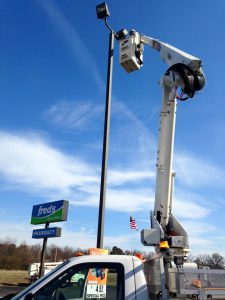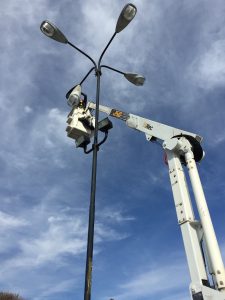 Parking Lot Light Repair
Being that we are certified electricians, we are not limited to signs. Call us for any parking lot issue. With our high quality LEDs, we can ensure a well lit parking lot that makes any site more welcoming and safe. Call today for any repairs or maintenance.
Why choose parking lot lighting from Jonesboro Sign Company?
Parking lot lighting is our specialty. Be confident with your next project knowing that you have the backing of over 40 years experience in parking lot lighting on your side. We make it easy for you to get the right products for your project, all in one place, saving you precious time and money. The efficiency of LED lighting is vastly greater than HID fixtures. Not only will you save on energy but the longer life of LEDs will reduce maintenance costs too.
Reasons to Choose LED Lights:
Provides a sense of security and safety. Staff and customers will appreciate a well-lit exterior because they can see where they are going without any accidents caused by dark areas.

It will help deter crime. There is no denying that a well-lit parking lot can help lower crime because most crimes take place where darkness provides cover for criminals.

LED is more efficient than traditional halogen or metal halide fixtures of the same nature. It offers a higher lumen output with a lower wattage consumed. This means you get powerful performance coupled with a lowered utility costs to your business.

LED lamps last up to three times as long as less efficient lamp types. This will save you in the long run with lamp replacements and maintenance costs for your business.
When you own a business, warehouse, or commercial space, LED flood lights are an effective way to protect the area and ensure that it stays brightly illuminated both day and night. Having your area illuminated lessens the chance of break-ins and also helps ensure the safety of everyone who works in the area. Ideal for parking lots or a myriad of other outdoor spaces,  LED lights offer bright illumination and a wide selection of options.